Residential HVAC Services For Northeast Georgia
We have one job- to keep you comfortable all year round. Call us today to schedule preventative maintenance or repairs to your heating and air.
Schedule a Meeting
Please submit the form below. We will contact you to set up a meeting.

Heating & Air Conditioning Repair Services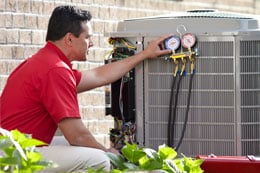 The friendly and knowledgeable staff at Air Conditioning Services is here to make your home comfortable all year round. We provide high-quality heating and cooling services with 100% customer satisfaction guarantee so you can feel confident in our work from a new installation through system repair.
Our flexible scheduling options allow us to come out at any time for emergencies, which means we'll always have someone available who knows what they're doing if something goes wrong.  As licensed professionals specializing in residential HVAC systems plus air filtration products, we have everything covered when providing reliable indoor air quality solutions tailored specifically toward each individual client.
HVAC Maintenance
Like everything mechanical, your air conditioning units have a lifespan. Calling an HVAC company like ours to come out and inspect your system can help you extend the life of your system. It helps to have a knowledgeable heating and air expert check your system in order to prevent little issues from becoming really big (and expensive) ones.
Call ACS today for an HVAC inspection and maintenance call today. You'll be glad you did.
Air Conditioning Repairs
The hottest summer months pose a major risk for homeowners. It sounds obvious, but you need your air conditioner to give you cool air in the hot Georgia summers. The humid heat and continuous usage can cause air conditioning failure at the most inconvenient time.
Our factory-authorized technicians have experience repairing all types of ac units and cooling systems, so you're guaranteed fast help when your system needs attention most – during Georgia's hottest summers. We offer upfront pricing with no hidden costs.
Call us today to have us provide either preventative maintenance on your air conditioning system or ac repairs.
Heater Repairs
Georgia's winters are not harsh, but they can be cold and unpredictable. This unpredictability might put a strain on your heating system. The typical air conditioning and heating system include an internal fan motor and unit that operates during both the heating and cooling seasons. This year-round stress can cause havoc on the motor, coils, electrical switches, and HVAC components.
As a result, if these components are not routinely maintained and cleaned, they will eventually fail. If your heating system fails, call Air Conditioning Services and we will keep the cold out. Our manufacturer-certified and approved professionals will fix your heating system and have you warm and cozy in no time.
HVAC Installation
When you need an expert in the field of heating and air conditioning, call Air Conditioning Services. We are a family-owned business with strong moral values that specializes in installing high-quality equipment from Bryant® brand name products which we believe will provide a guarantee for your system's durability as well customer satisfaction. We have an excellent track record of installing efficient HVAC systems at affordable prices with fast response times. Contact us today if you need any help deciding on what type would be a perfect fit or just want more information about pricing available from our knowledgeable staff members.
Smart Thermostats
Smart thermostats allow you to control your thermostat from any location by utilizing your computer or mobile device. They can assist you in creating simple schedules to automate your heating and cooling, so saving you energy and money. Some models include numerous sensors to ensure maximum comfort throughout your home. Smart thermostats can also be used in conjunction with other home automation devices. Let Air Conditioning Services install a smart thermostat in your home for maximum comfort and convenience that will save you money.
We Take Pride in Our Services and It Shows
The staff at Air Conditioning Services pride themselves on our diverse team of heating and air conditioning experts. We only hire people who are not only highly skilled but also conduct themselves professionally with every client they come into contact with. Our team knows their stuff; they go through extensive training sessions where they learn different technologies to keep their skills sharp so that our clients can feel confident that they are working with someone who is knowledgeable in their field.
We also offer extremely qualified and experienced field supervisors who, while you may never see them, give valuable backup to our already capable technician team. This collaborative effort saves us both time and money. Call today.
Why Call ACS For HVAC Service?
The last thing anyone wants when their system isn't working is a sales job. That's why we analyze the problem as quickly and effectively as possible then explain your options so that you can make decisions that are right for you. We will never try to sell or pressure you in any way.
We see our role as advisors here to give you information about your system along with information about products that make sense for your home. There is a science behind effectively moving cool or hot air around your home or office, and we can help you understand the type of system that will work for your size building.
Besides our expertise and customer service, other reasons to call ACS include:
We give a 100% guarantee on all our products & services
We're licensed, insured & bonded
We provide flexible scheduling
Highly trained HVAC contractors
All our technicians have passed thorough background checks
We show up when promised, protect your home or office wherever we go and clean up after our work. We do everything we can to ensure that we improve everywhere we go. Call us for all your HVAC needs today.
Our Service Area
We have happy customers all around the Northeast Georgia area. We've provided HVAC services for homes and businesses in:
·      Hall County: Clermont, Flowery Branch, Gainesville, Lula, & Oakwood
·      Habersham County: Alto, Baldwin, Clarkesville, Cornelia, Demorest, Mount Airy & Tallulah Falls
·      Gwinnett County: Lawrenceville
·      Jackson County: Arcade, Braselton, Commerce, Hoschton, Jefferson, Maysville, Nicholson & Talmo
·      Stephens County: Martin & Toccoa
Contact us today when you need HVAC services you can trust.