The HVAC Company That Cares
We're in business to fix your heating and air, but there's far more to life than just that.
Schedule a Meeting
Please submit the form below. We will contact you to set up a meeting.

Your Local, Dependable HVAC Contractors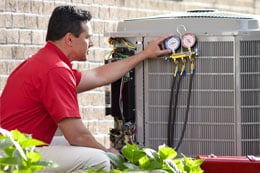 At ACS Gainesville, we are all about our clients. We pride ourselves on our excellent service and also client relationships. ACS offers our clients a 100% product and also workmanship guarantee on all work we perform, above and beyond any product manufactures guarantee. For us, standing behind our work is the least we can do.
We know how busy life can get.  Therefore at ACS Gainesville, we offer flexible scheduling to suit your needs. Because we understand that there's just no convenient time for your air conditioning or heat to stop working.
We employ only craftsmen who are not only highly skilled and also technically qualified, but who also are a pleasure to have in your home. Each heating and air conditioning technician is instilled with a sense of pride in the company and therefore they act in a professional and polite manner.
Air Conditioning Services is a fully licensed heating and air conditioning contractor providing services for the residential and also commercial customers in Hall County, Habersham County, and Jackson County and all of Northeast GA. We hope you will sense our friendly and also caring approach to your comfort and needs.
ALL OF OUR HEATING AND AIR CONDITIONING TECHNICIANS:
Have passed a thorough background check
Hold drivers licenses with no DUI convictions
Aare someone you and also your family can trust
Are dependable and also show up when promised
Have high integrity and also good character and are also clean and courteous professionals
Will either cover the floor where they work, with drop cloths or runners, or also wear floor savers.
When they are finished, they will clean up their work area instead of leaving the mess for you as other company's do.
"We have a 100% SATISFACTION GUARANTEE. We enjoy our work and look forward to sharing with you our skills and services to help make your home or business comfort system efficient, clean, and reliable."
THE ACS TEAM GIVES YOU PEACE OF MIND:
You'll have peace of mind knowing that we comply with all codes, licenses and laws. Don't fall into the trap of hiring a company that is able to offer a cheaper price because they operate without a license, companies that don't "pull" required permits, or don't carry adequate insurance.
Air Conditioning Services is a licensed heating and air conditioning contractor and obtains all municipal and state permits as required.  ACS is insured for Workers Compensation and for liability insurance. Compliance with codes and adequate insurance is important to you for liability reasons. If a worker is injured and the contractor is not insured, you can be held liable. Also if there is an insurance claim due to a fire or an accident that is related to unlicensed work or work for which no permit was obtained, your insurance company may dispute the claim. You also want to avoid questions related to workmanship when you sell the house, which also may end up costing you more than the original repair to correct.
With Air Conditioning Services, you have peace of mind knowing that you are not dealing with a "fly-by-night" company that can leave you "hung out to dry".
HEADACHE FREE HVAC MAINTENANCE
You can save money with discounts on repairs and reduced energy use.
Air Conditioning Services has customer discount programs available for you when you have your equipment maintained annually. This is called our ESA Energy Savings Agreement.
For a low annual rate, you will receive two annual maintenances, discounted services, and also many more benefits. This is a tremendous savings because you get all the discounts and also the benefits of the program plus the benefits of annual maintenance all for less than what you pay for a precision tune-up and safety check!
When you think about the peace of mind that you will have in knowing your equipment has been checked for safety, proper operation, and also potential mechanical problems, we think you'll agree that the ESA maintenance agreement is a fantastic value.
A special low monthly payment option is also available to make it an even better value.
Technical Excellence:
ONGOING TECHNICAL TRAINING + EXPERIENCED SUPERVISION + OFFICE SUPPORT = TOP SERVICE FOR YOU
Our company is committed to the technical excellence of the service we provide you. Therefore, we encourage our technicians to attend regular training sessions.  Air Conditioning Services also has highly competent and experienced field supervisors who, although you may never see, provide valuable backup to our already capable staff of technicians. We find that this team effort saves time and also money.
Additional backup is available in the office to support the field technician on your job. Should a question arise about prior work performed for you, or if a part needs to be specially ordered the technician simply makes a call to access that help.
When you combine all of this with the thoroughly stocked service vehicles, the cutting edge communication technology, the "family-friendly" service providers, and also the rigorous employment screening, you will see why we are considered by our customers to be the only HVAC service they will use!
PRACTICAL ADVICE & SUGGESTIONS:
We don't expect our customers to know our business as well as we do. That is why we freely offer practical advice and also suggestions in order to improve the comfort level of your home, save you money, ensure your equipment runs efficiently, and improve the quality of air in your home. Therefore, our staff takes pride in sharing with you their level of expertise in our field and ensuring that you are fully educated about your HVAC systems. We help you make informed decisions about your system.
Flexible Payment Options:
After we finish, you have the option of paying by cash, check, or any of the following options:
Credit Card (Visa or Mastercard)
Debit Card (w/MasterCard or VISA logo)
Cash
 Checks
Wells Fargo Financing*
*Subject to credit approval. Click here to apply today.
ABOUT OUR SERVICES:
Installation
Equipment Care Maintenance Services
Replacement
Indoor Air Quality Solutions
Filter Changes
Air Filtration Products / High Efficiency Air Cleaners
Duct Cleaning & Sanitation
Air Flow Balancing
Humidifiers
UV Sterilizers
Energy Management Systems
Emergency Service Available
Polite & also Courteous Representatives
Contact us today and schedule your heating and air maintenance, repairs or installation. You'll be glad you chose ACS.
Our Service Area
We have happy customers all around the Northeast Georgia area. We've provided HVAC services for homes and businesses in:
·      Hall County: Clermont, Flowery Branch, Gainesville, Lula, & Oakwood
·      Habersham County: Alto, Baldwin, Clarkesville, Cornelia, Demorest, Mount Airy & Tallulah Falls
·      Gwinnett County: Lawrenceville
·      Jackson County: Arcade, Braselton, Commerce, Hoschton, Jefferson, Maysville, Nicholson & Talmo
·      Stephens County: Martin & Toccoa
Contact us today when you need HVAC services you can trust.