Heating Repair Services in Tallulah Falls, Georgia
Summers are brutal in Georgia, but winters are no picnic either. That's why you need your heating and air working properly all year round. Call us for reliable HVAC services for your home or business.
Schedule a Meeting
Please submit the form below. We will contact you to set up a meeting.

Heater Repair That's Affordable
Heater repair is an essential service that guarantees the efficient operation of heating systems in both residential and commercial settings. Whether you have a furnace, heat pump, or water heater, these heating appliances require regular maintenance and occasional repairs to keep them running smoothly.
Our team of heater repair professionals is experienced in identifying and fixing various issues, including broken thermostats, faulty heating parts, gas leaks, pilot light problems, and more. By promptly addressing these problems, we prevent unexpected breakdowns, save energy, and extend the lifespan of your heating system.
With our dependable heater repair services, you can rest assured that your home or business will stay warm and cozy even in the coldest weather.
Types of Heating Services
At ACS Gainesville, we offer a wide range of heating repair services tailored to meet different needs. Here are two popular types of heating systems we specialize in:
Geothermal Heating Units: We provide installation services for energy-efficient geothermal heating units that are customized to fit your home's size.
Heat Pumps: Our team offers tune-ups and repairs for heat pumps, ensuring early issue detection, improved efficiency, and prevention of emergencies through annual maintenance.
In addition to these services, we also provide furnace installation, furnace repair, new ductwork installation, duct repair, thermostat installation, and gas line installation. Our goal is to offer comprehensive expertise in heating systems, enabling your home to operate optimally throughout the winter season.
Furnace Repair and Maintenance
When your furnace malfunctions, it's crucial to contact our skilled technicians at ACS Gainesville. We have the expertise to diagnose and repair issues with heat exchangers, igniters, blower motors, gas valves, and more. Our furnace repair services are designed to reinstate heating and restore the functionality of your furnace.
To prevent frequent repairs, we also offer regular furnace maintenance. Our maintenance plans include seasonal inspections and tuning to maintain peak furnace efficiency. By scheduling routine maintenance with our team, you can proactively address potential issues and ensure that your furnace operates at its best.
Heat Pump Repairs
If you have a heat pump system, it's essential to prioritize its maintenance and repair to maintain optimal efficiency and performance. Heat pumps are versatile systems that provide both heating and cooling to your home. However, over time, they can experience issues that require professional attention.
At ACS Gainesville, our team of experts is skilled in handling heat pump repairs. Whether it's a refrigerant leak, faulty compressor, or electrical problem, we have the knowledge and experience to diagnose and resolve these issues promptly. Our goal is to ensure that your heat pump operates at its peak performance, delivering optimal comfort and energy efficiency to your home.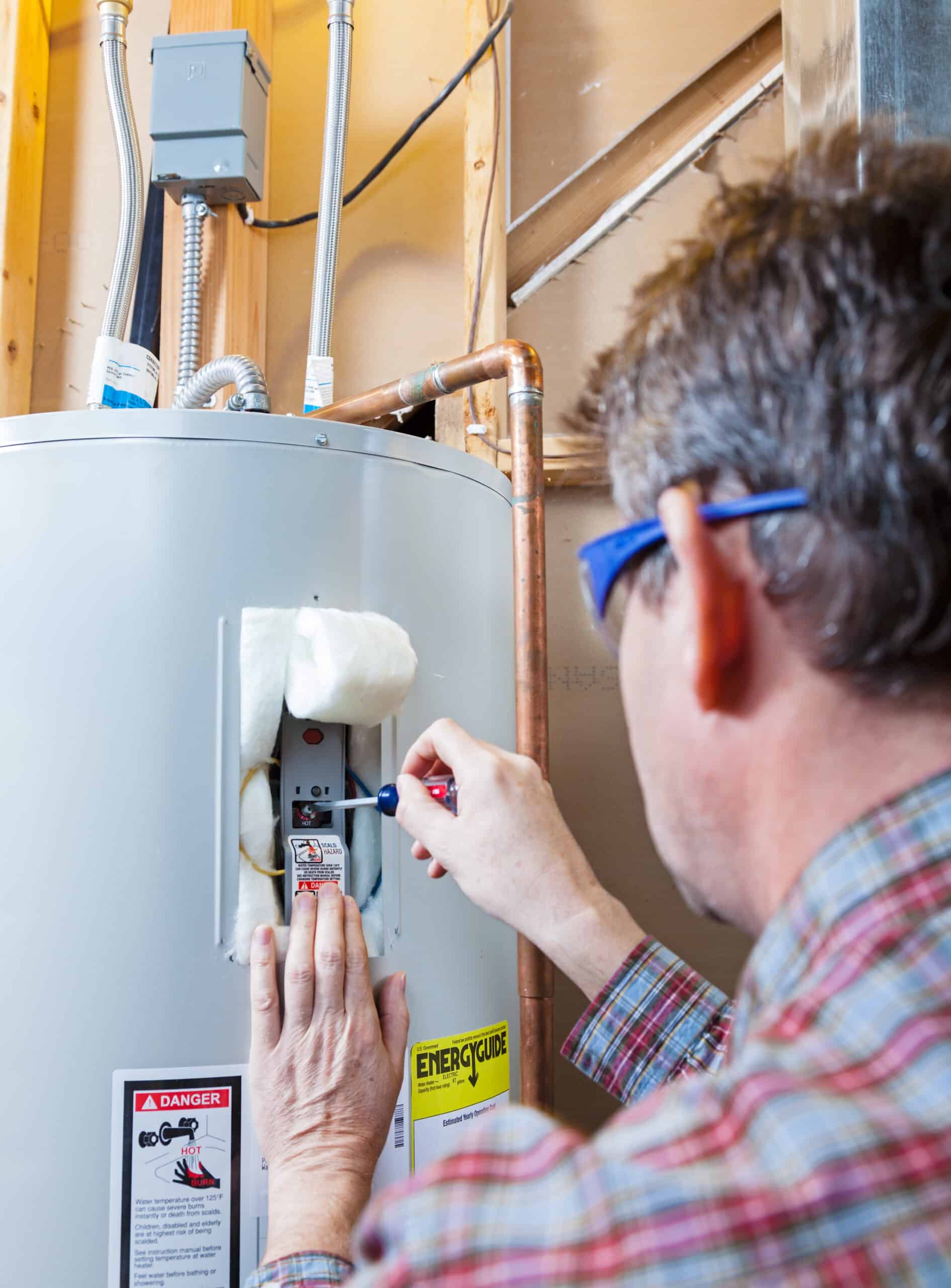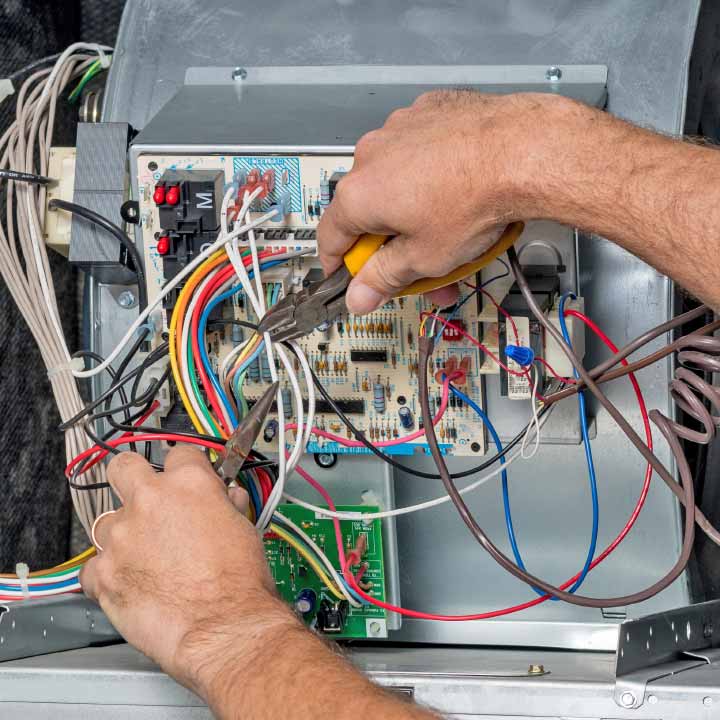 Common Issues with Heat Pumps
Heat pumps can experience common issues that affect their performance. Some of these issues include heat not working and the pump not turning on. These problems can be attributed to various factors.
One common cause is dirty blowers, which restrict airflow and lead to inadequate heating. Similarly, dirty air filters can impede air circulation, causing the heat pump to struggle in maintaining the desired temperature. Additionally, dirty flame sensors and burners can interfere with the combustion process, hindering proper heating.
Wiring and electrical issues can also disrupt the operation of heat pumps. Faulty connections, loose wires, or electrical malfunctions can prevent the pump from functioning correctly. To avoid further damage and ensure optimal performance, it's essential to address these problems promptly.
Regular maintenance is crucial to keep heat pumps in good working condition. This includes cleaning and replacing air filters, inspecting and cleaning blowers, and checking flame sensors and burners for dirt and debris. Professional service technicians can also conduct thorough inspections of the pump's wiring and electrical components to identify and resolve any issues.
Cost of Heat Pump Repairs
The cost of heat pump repairs can vary depending on several factors. One primary factor is the time required for repair or replacement. More complex or extensive repairs may take longer to complete, resulting in higher labor costs.
The condition and size of the heat pump can also impact the cost. Older or poorly maintained heat pumps may require more extensive repairs, while larger heat pumps may require more materials, resulting in increased expenses.
The accessibility to air ducts is another factor that can affect the cost. Repairs that involve accessing hard-to-reach areas or removing significant components may require more time and effort, increasing the overall cost. Furthermore, any warranties or insurance coverage on the heat pump can play a role in determining the cost of repairs. Some repairs may be covered under warranty, reducing the out-of-pocket expenses for the homeowner.
When it comes to HVAC repair and installation services in Maysville, Georgia, ACS Gainesville is the trusted name to rely on. Our experienced team specializes in a wide range of HVAC services, including heating repair, air conditioning repair, and new system installations. We are committed to ensuring your comfort and satisfaction throughout the year.
Heating Repair Services
When your heating system malfunctions, it's important to have it repaired promptly to maintain a warm and comfortable environment. Our skilled technicians are well-versed in diagnosing and fixing various heating issues. Whether it's a malfunctioning thermostat, a faulty heating component, or a gas leak, we have the expertise to address the problem efficiently.
We understand that unexpected heating problems can be inconvenient and uncomfortable, especially during the colder months. That's why we prioritize timely repairs to restore your heating system's functionality and ensure your comfort. Our goal is to provide affordable and reliable heating repair services that meet your specific needs.
New Heating System Installations
In addition to repair services, we also provide new system installations for both heating and cooling systems. If your existing HVAC system is outdated, inefficient, or beyond repair, our knowledgeable technicians can recommend and install a new system that suits your specific requirements.
We understand that choosing the right HVAC system for your home or business is crucial for optimal comfort and energy efficiency. Our team will guide you through the selection process, considering factors such as your property size, budget, and desired features. We work with top-quality HVAC brands to ensure reliable and long-lasting installations.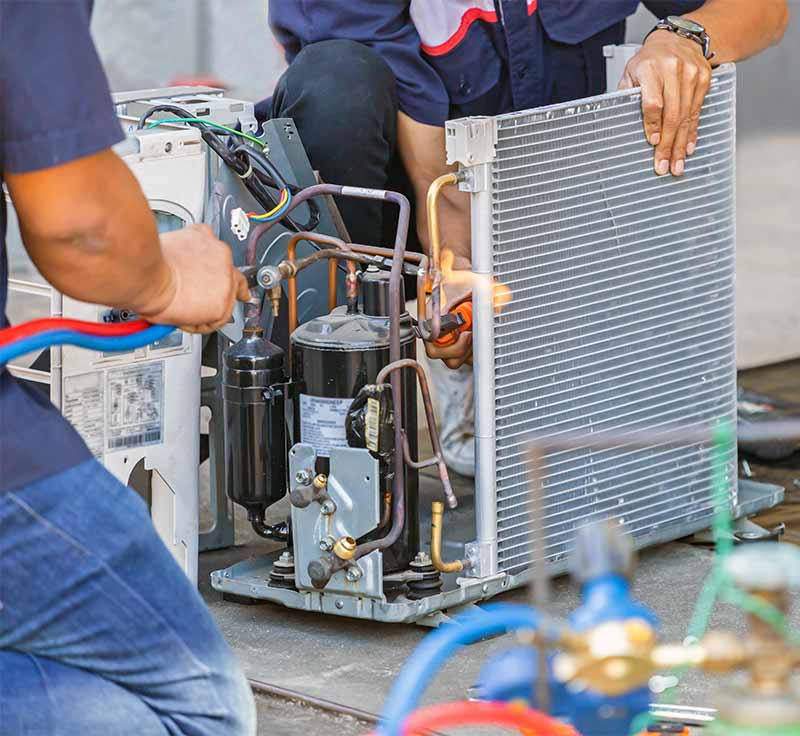 Maintenance Services
To keep your HVAC system running smoothly, regular maintenance is essential. Our maintenance services include comprehensive inspections, cleaning, and tune-ups for both heating and cooling systems. Through routine maintenance, we can identify and address potential issues before they escalate, prolonging the lifespan of your HVAC system and maximizing its efficiency.
Our maintenance plans are designed to fit your needs and budget, offering peace of mind and preventing unexpected breakdowns. By scheduling regular maintenance with ACS Gainesville, you can ensure that your HVAC system operates at its best, providing you with year-round comfort.
ACS Gainesville: Your One-Stop Solution for Heating and Cooling Repair
The ACS Gainesville team offers comprehensive heating and air conditioning repair services for both homes and businesses, including:
Furnace Repair: We troubleshoot and fix all types of gas and electric furnaces.
Heat Pump Repair: Our technicians are experts at diagnosing and repairing heat pump issues.
AC Repair: We'll restore your air conditioner's cooling capabilities.
Ductwork Repair: Enhance efficiency by fixing leaky or damaged ducts.
Thermostat Repair: We diagnose and replace faulty thermostats of all kinds.
And More: We handle all HVAC brands and address nearly any issue.
With ACS Gainesville, you can rely on seasoned professionals for any heating or AC repair needs. Our certified technicians possess the knowledge, training, and tools to accurately diagnose issues and complete repairs.
Don't waste time attempting to resolve HVAC problems on your own. Trust ACS Gainesville for prompt, skillful workmanship you can trust. Schedule service with us today!
Our Service Area
We have happy customers all around the Northeast Georgia area. We've provided HVAC services for homes and businesses in:
·      Hall County: Clermont, Flowery Branch, Gainesville, Lula, & Oakwood
·      Habersham County: Alto, Baldwin, Clarkesville, Cornelia, Demorest, Mount Airy & Tallulah Falls
·      Gwinnett County: Lawrenceville
·      Jackson County: Arcade, Braselton, Commerce, Hoschton, Jefferson, Maysville, Nicholson & Talmo
·      Stephens County: Martin & Toccoa
Contact us today when you need HVAC services you can trust.